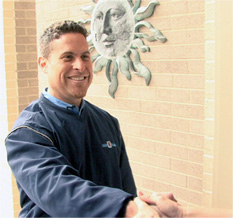 Same-Day Fabrication and Installation for Most Projects! Our friendly and professional uniformed glass technician can complete your project in as little as one hour.In the past, plywood, cardboard, or even tape would have to suffice for sealing a broken window until new glass could be cut and installed. In more recent times, insulated or thermal glass required up to two weeks (and often longer) to be measured, ordered, delivered, and installed. Why wait weeks? Now, there's a better option: Inst-I-Glass, the originators of instant insulated glass!
What's different about Inst-I-Glass? Inst-I-Glass can dispatch a professionally trained, uniformed glass technician to your home or office to fabricate a replacement for your broken or foggy glass, on-site. Most projects are completed in a single service call! Inst-I-Glass uses mobile manufacturing to offer instant on-site insulated glass fabrication and same-day glass replacement services, both residential and commercial. You'll benefit from fast turnaround time and competitive pricing for glass replacement service – without having to sacrifice quality.


The current economy has increased consumer interest in preserving rather than replacing. Inst-I-Glass specializes in the restoration of your existing windows and doors, avoiding the expense and hassle of Fast service from Inst-I-Glass turns a major problem into a minor inconvenience.
When glass is broken, speedy repairs are important! Fogged glass that hasmoisture between the panes (seal failure) is no longer attractive or energy efficient. Replacing only the glass saves both time and money! It's also a greener choice, restoring energy efficiency, reducing pollution from manufacturing, and preventing needless landfill burden.Most pricing can be given by telephone or online, and the majority of projects are completed in one visit. Inst-I-Glass customers not only get fast results, they rarely need a board-up service or extra time away from work for multiple appointments.
Founded in 2007, the company sold its first franchise in 2008. Inst-I-Glass began franchising actively in 2010, capitalizing on unique proprietary technologies and processes to deliver the fastest glass replacement possible with the highest quality attainable.